MAM Annual Events

Mayors' Exchange
Mayors' Exchange Day, created by MAM in celebration of Michigan Week (mid-May), is an opportunity for members to explore and celebrate other Michigan communities. The League will pair up communities, upon request. Learn more.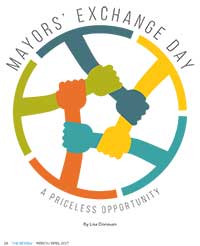 Mayors' Exchange Day story
Review magazine, March-April 2017
Mayor and County Day of Recognition for National Service
April 4, 2017
The nation's mayors and county officials are increasingly turning to national service as a cost-effective strategy to addroess local challenges. By unleashing the power of citizens, AmeriCorps and Senior Corps programs have a positive and lasting impact - making our cities and counties better places to live. To spotlight the impact of national service and thank those who serve, mayors and county officials will participate in the fifth-annual Mayor and County Recognition Day for National Service on April 4, 2017.
On this day, mayors and county officials will hold public events and use traditional and social media to highlight the value of national service to the nation's cities and counties. Last year, 3,539 elected officials representing more than 178 million American citizens participated in the fourth-annual Mayor and County Recogniaiton Day for National Services. The initiative is being led by the National League of Cities, National Association of Counties, Cities of Service, and the Corporation for National and Community Service.
Given your support of national service, we are reaching out to see if you would sign on as a participating mayor. For more information, visit the Corporation for National & Community Service website or contact Ben Holland, Program Officer at the Corporation for National and Community Service, 313-226-3024, bholland@cns.gov .
Legislative Breakfast
Each spring at the Michigan Municipal League's Capital Conference in Lansing, MAM members gather to meet with their state legislators to discuss issues vital to Michigan's communities. Since 2015, MAM has sponsored the legislative breakfast. This legislative event increases the visibility of participating members and assists them with building and maintaining key relationships.
Summer Workshop
Learn from experts in related fields, understand the latest local government research and prepare yourself for the future of the public service profession by participating in the MAM Summer Workshop. This inspiring two-day event has taken on a variety of issues in communities across the state.
2017, Monroe - Better Leaders


Program
Online registration
Registration Form
Photos

Presentations

How to Deliver an Effective State of the City Address - Trevor Langan, National League of Cities

State of the Cities 2017 - Trevor Langan, National League of Cities

Budget Concepts and Considerations - Bill Brickey, Plante Moran

DTE Energy - Carla Gribbs, DTE Energy

State of the Cities - Emily Kieliszewski, Michigan Municipal League

Legislative Update - John LaMacchia, Michigan Municipal League

John Barr Scholarship Announcement - Gisgie Davila Gendreau, Michigan Municipal League Foundation
Previous Workshops

2016, Muskegon
2015, Battle Creek - The Modern Mayor
2014, Midland - Placemaking Firsthand
2013, Frankenmuth – The Modern Mayor: Innovating at the Local Level (click here for photos from the workshop)
2012, Traverse City - The Modern Mayor (click here for photos from the workshop)
2011, Port Huron – Placemaking: Creating A Catalyst for Change
2010, Saint Ignace – Using Technology to Save Your Community Money
2009, Grand Haven – Capitalize on Community
2008, Sterling Heights/Utica – Legacy Costs
2007, Frankenmuth – Our Hometowns Matter